Dog friendly holidays devon
Dog Friendly Holidays in Devon
Welcome Family understands that many people dote on their dogs.
We know that your pampered pooch is equally important as any other family member, and that they deserve a holiday and a change of scenery, just as much as you do. That's why we extend a warm welcome to all our visitors and offer you the freedom to enjoy dog friendly holidays in Devon.
The Benefits of Holidaying in Devon with Your Dog
It's only natural that you want to share your valuable leisure time with your dog. Choosing a holiday in Devon offers the perfect solution. No anxiety separation as your faithful friend is banished to a kennels. No sky-high kennel fees. You don't even need to worry about forgetting your passpawt!
Best of all, Devon is the perfect place to holiday with your dog. There are dog friendly beaches for playing in the sand and splashing in the sea, and excellent walks along the coast and inland through woodland and over moorland. Many of Devon's fun family attractions welcome well-behaved dogs, and you can find a fantastic selection of dog friendly pubs and restaurants that even offer doggy treats.
Dog Friendly Beaches in South Devon
Let's face it, a trip to Devon is all about the beaches. So it's important that your canine companion can enjoy the seaside with you. Luckily South Devon has plenty of dog friendly beaches, so your dog can run along the sand, splash about in the water, and help you to build sandcastles (even if their sense of design is a little different from yours!).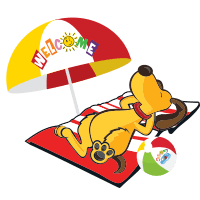 Our very own Blue Flag beach at Dawlish Warren allows dogs all year round between groynes 3 and 9. For further information on taking your dog to Dawlish Warren beach, see this leaflet.
Other dog friendly beaches in South Devon include Teignmouth River beach, parts of Exmouth beach, Ness Cove, and Slapton Sands.
For a full list of dog friendly beaches in South Devon, see Visit South Devon or Doggy Devon.
Pawfect Dog Friendly Pubs, Restaurants & Cafés in South Devon
While all our pet-friendly properties have kitchen facilities, you probably don't want to cook every day on holiday. Fortunately, many of the pubs, restaurants and cafés in South Devon are happy for well-behaved dogs to join their owners.
The Boat House and Mount Pleasant Inn in Dawlish Warren are dog friendly, as are the Swan Inn, Lansdowne and Marine Tavern in Dawlish town.  About a mile down the road from Welcome you'll come to the beautiful coastal village of Cockwood, here you'll find the Anchor Inn and Ship Inn, both of which are dog friendly.
To search for dog friendly pubs, restaurants and cafés further afield, see the following resources:
Pawsome Dog Friendly Attractions
Devon isn't only about beaches and walking. The county is filled with family-friendly attractions, many of which welcome dogs, as long as they're accompanied by well-behaved adults!
Babbacombe is a very dog friendly place, welcoming dogs to its model village, cliff railway, and to Bygones, a Victorian museum (perfect if you have a ruff weather day).
And we're sure your faithful companions will love to accompany you to Devon's many parks and reserves, including the Becky Falls Woodland Park, River Dart Country Park, Canonteign Falls, and Hackney Marshes Nature Reserve.
For more dog friendly attractions, see our blog about dog friendly places near Dawlish Warren or visit The Good Dog Guide websites.
If you're in Devon in August, don't miss Woofstock UK, an annual doggy festival that takes place in Dartmouth.
If your dog shares your love of steam trains, boats, or trams, they can join you on the South Devon Railway, Dartmouth Steam Railway and River Boat Company, Seaton Tramway, or Stuart Line Cruises.
Walkies in South Devon
Dogs love to explore the world around them, sniffing out new, exciting smells while getting their paws dirty as they check out their new surroundings. At Dawlish Warren, they have the best of all worlds: a sandy beach, stunning coastal paths, and peaceful woodland walks.
As well as the gorgeous beach at Dawlish Warren, there are a variety of places you can take your dog for walkies close to our park.
The South West Coast Path is right on our doorstep and passes several dog-friendly pubs. The newly opened Dawlish Countryside Park provides an alternative to beach walking, and the new Devon Loves Dogs scheme details a variety of walks around the Dawlish area.
Inland, the Mamhead Sensory Trail is a fully surfaced track with stunning views, while Haldon Forest Park is a short drive from Dawlish Warren and includes several areas where dogs can play safely off their leads.
If you want to venture further afield, the South West Coast Path lists other dog-friendly walks, and there are plenty of walking routes across Dartmoor, though please follow Paws on Dartmoor advice.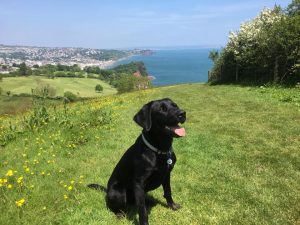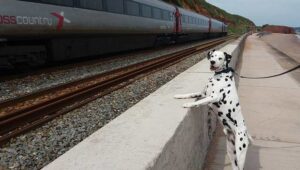 Dog Friendly Holiday Accommodation in South Devon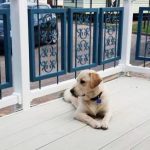 After a day of tail-wagging excitement in South Devon, you'll be delighted to return to your dog friendly holiday accommodation for a comfortable night's sleep. We offer a range of pet friendly bungalows, lodges, and caravans to suit all budgets, which provide the perfect home from home for all your family.
If you'd like to find out more about our pet friendly accommodation or ask any questions about dog friendly holidays in Devon, contact Welcome Family today. We're passionate about pets and will be delighted to discuss your booking.
We have been going to the welcome as a family every year since I was born. 32 years. My mum has gone since she was 16. It truly is an amazing place and wouldn't choose anywhere else. Highly recommended.

Been here with the family for the last 4 years and wouldn't choose another site in the area. It's great. Kids love it, it's clean and tidy, great location, all the facilities are well kept and the entertainment is brilliant. A top notch UK holiday park!

It is a wonderful family run business that deal with you as an individual we had a great stay for my birthday last year , there is lots to do locally for all including disabled guest and cant wait to come back

Fantastic for a family holiday, the entertainment is outstanding.

Love the Welcome! I would recommend it to anyone, plus the entertainment is out of this world. Mark and the entertainment team are the best, you will have a wonderful time there.

Kevin And Marina - August 2020
Been going for a few years, booked already for 2021, its a great place this year has been strange but what the owners have put in place to keep everyone safe is astounding,

Just spent a week in a beautiful caravan and the park was lovely. Our first time visiting and everyone was so friendly and welcoming.

It's the best holiday park around and not part of a chain! It has the best entertainment team, there isn't a park like it!

Very good service from all the staff everything was clean food in the clubhouse was very good caravan was well equipped and again very clean had a fantastic family holiday lots to see and do will definitely go again.