5 of the Most Unusual and Unique Attractions in Devon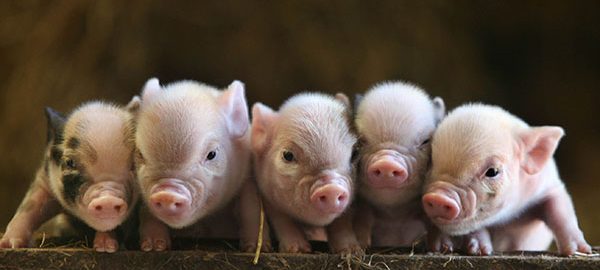 17th August
If you'd like a day out with a difference, read on for our pick of the most unusual and unique attractions in Devon. Which is your favourite?
5 of the Most Unusual and Unique Attractions in Devon
South Devon is famous for its wonderful countryside, beaches, shops and restaurants. But did you know there's also a range of quirkier and unique attractions in Devon to enjoy? If you'd like a day out with a difference, read on for our pick of the region's most unusual places to visit.
These unique attractions are easy to reach, as they're all under an hour's drive from our Devon holiday park.
1. Watch Miniature Pig Racing at Pennywell Farm, Buckfastleigh
For the past 25 years, the South West's largest activity farm has been home to marvellous miniature pigs. The cute little porkers weigh less than a can of soup at birth; but what they lack in size, they make up for in personality! In fact, Pennywell Farm breeds them to be particularly friendly.
They're also surprisingly agile, as the miniature pig races prove! Visitors can watch the farm's famous inhabitants having the time of their lives as they leap over hurdles. It's no wonder Pennywell is such a huge hit with young families.
2. Bring the Past to Life at Timehouse 'Muzeum', Totnes
This quirky South Devon attraction, which is ideal for older children and adults, lets you experience history in a way that isn't possible at ordinary museums. At Timehouse, you'll discover an eclectic series of interactive art installations, including everything from a World War II spy's headquarters to a stylish 1960s lounge. The objects aren't kept in glass cases – you're welcome to handle them.
After you've brought the sights, sounds and smells of the past to life, find inner peace in the magical Cloud 9 room. Timehouse really is full of surprises!
3. Visit Mini England at Babbacombe Model Village, Torquay
With hundreds of miniature buildings and thousands of tiny residents, Babbacombe Model Village's inventive, amusing depictions of English history and culture have been entertaining South Devon holidaymakers for decades. The secret of the attraction's enduring appeal lies in its variety and attention to detail. Where else could you find a miniature celebrity mansion, football stadium, thatched cottages, haunted tower and even a fire-breathing dragon?
For a taste of what to expect, take a peek at Babbacombe's webcam! If you visit with the kids, pick up 'spotter' sheets to encourage them to look out for the marvellous details.
4. Challenge Your Taste Buds at South Devon Chilli Farm, Loddiswell
Sample some of the chillies Jamie Oliver calls 'the best in the country' at South Devon Chilli Farm, the region's hottest attraction! On a tour of the farm, you'll learn how the experts grow, harvest and cook chillies. Around 200 varieties of chilli plant are displayed in the show tunnel. There are plenty of other areas to explore too, including a chilli-themed playground.
After the tour, take part in the Fresh Chilli Tasting Challenge – if your taste buds can handle it! Will you earn a place on the wall of 'flame'?
5. Meet Prehistoric Creatures at Torquay's Dinosaur World
If your son or daughter has a collection of dinosaur toys at home and would love to see life-sized versions on holiday, head to this immersive indoor exhibition for a fun-filled South Devon day out. Youngsters are even welcome to sit on some of the creatures at Torquay's Dinosaur World!
Pose with a huge Stegosaurus then go in search of fierce Velociraptors. But the real test of bravery comes when you discover the T-Rex's skull. Do you dare to put your head inside its jaws? One thing's for sure: you'll leave with some amazing photos!
Which of these unique attractions have you visited? Do you have a favourite Devon day out?
Welcome Family's first-class holiday accommodation in South Devon is the ideal base for trips to top attractions. Simply book online or call us on 03451 656265.