Forget boring exhibits in dusty cases. These marvellous museums in South Devon are all about joining in, having fun and learning some amazing things along the way. Discover sailing ships and steam trains, beautiful art and fascinating photos, wartime dramas and daily life. All the history of the area is right here.
This seaside town is home to a fascinating museum. It's packed with intriguing artefacts that tell the story of Dawlish from Victorian times to the present day.
There's plenty for everyone here. Learn about daily life in the olden days and dress up in authentic, historical costumes. The Dolls House exhibit is always a favourite and there's a vast library of photographs. This is where you can see Piper Bill Millins famous, D Day bagpipes. He played these to welcome home the returning troops in 1944.
This impressive museum of art and history is an Ancient Scheduled Monument. The 800 Years Gallery tells the history of the Abbey since 1196, through artefacts, portraits, artwork and interactive displays. There's even a talking knight hologram!
The galleries feature works by local artists and you can visit their workshops. There are even collections by renowned artists such as Frederick Thrupp and William Blake.
There are plenty of ways to join in, from craft afternoons and kids' workshops to comedy nights and artist talks.
Ever wanted to be an old time sailor for the day? This is for you! The Golden Hind is a full- sized replica of the ship Sir Francis Drake sailed 36,000 miles around the world. Not bad going in 1577.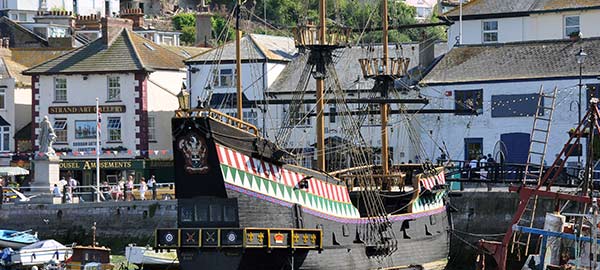 See the cramped quarters where the crew lived and worked, take a peek in the surgeon's instruments (not for the faint-hearted), check out the cannons and weapons they used to fight off pirates. You can even walk the plank if you're brave enough!
With atmospheric lighting, realistic displays and creaky floorboards, it's like stepping back in time. Amazing…
Discover how the town prepared for invasion in Napoleonic times, and hear how the Royal Navy found a safe haven in the waters of Torbay. Learn about the brave Brixham fisherman who sailed the seas and kept the town alive.
In Victorian times, girls left school at 9 and worked hard to help their mums. Find out what it was like to grow up in a very different world. The locals got through two world wars and you'll discover how they faced all sorts of challenges.
You can even examine the fossils and artefacts discovered by local archaeologists. Kids can dress up in period costume, and there's a brilliant steam train to explore.
Step back in time to a full sized, Victorian street, complete with authentic sights, smells and sound effects from the era. Cobbled pavements, original signs and a huge array of products; you won't know where to start.
Browse in the General Store, investigate old-fashioned remedies in the Apothecary, be tempted in the jewellers or get hungry at the bakery. Have a look at the dentist and sneak a peek in the prison cell – just don't get locked in.
You can try your skills in the Vintage Amusement Arcade and dress up in all sorts of costumes. The model railway is a big highlight and took years to construct. There's even a full sized steam train and booking office, complete with retro posters. Phew…
If you're a vintage car enthusiast, Devon boasts a museum dedicated to motoring in all its forms, with more than 120 vintage vehicles. The marvellous Moretonhampstead Motor Museum frequently receives five-star reviews from car fans.
The motoring enthusiasts who run the museum have transformed a former bus depot into a hotspot for classic cars. The collection encompasses everything from quirky three-wheelers to first-class luxury vehicles. What's more, you can see future exhibits being lovingly restored in the museum's workshop.
Welcome Family's exceptional holiday accommodation is the perfect base for reaching these exciting museums. Call us on 03451 656265 or book online.