Mention Dartmoor and the first thing that pops into your head are the beautiful ponies that roam freely over the moors. Indeed, the humble pony is the logo for Dartmoor National Park. These small, hardy animals are a huge part of our cultural heritage and a big attraction for visitors.
Here's a little insight to the iconic ponies of Dartmoor.
The History of Dartmoor Ponies
Ponies were first recorded here during medieval times, in a reference to the 'wild horses' of Ashburton in AD 1012. However, excavations uncovered prehistoric hoof prints from 3,500 years ago, suggesting they've been around a lot longer.
Dartmoor ponies are hardy animals with a calm temperament and an impressive ability to survive in harsh conditions. Their strength and surefootedness means they've been used for a variety of tough tasks, including transporting tin, granite and coal from mines; farm work; carrying goods; driving and riding.
Types of Dartmoor Ponies
In 1950, there were about 30,000 ponies on the moors. Numbers have since dropped to approx. 1,500, composed of four main types:
Pedigree Dartmoor ponies are on the endangered breeds list with fewer than 900 breeding mares left. They must be under 12.2 hands and solid colours only.
Dartmoor Heritage ponies breed on the open moor so their heritage is unknown. They conform to the same colour and size as pedigrees.
Many ponies on Dartmoor are of unknown or mixed breeding and are called Hill Ponies. They can be any colour and are often mixed with Shetlands.
In the early 20th century, Shetland ponies were bred with moorland ponies to produce tough animals to work in the mines. Pure Shetlands are still around and are often piebald (black and white) or skewbald (brown and white).
How Dartmoor Ponies Survive on the Moors
Dartmoor ponies thrive on the moors, despite the harsh weather and poor vegetation. They eat almost anything, including grass, heather and even gorse, which they bash first to remove prickles.
They've become an integral part of the landscape, and their presence plays a vital role in maintaining habitats and supporting wildlife. Their hooves have evolved to break gorse down as they roam so they help keep paths clear and accessible, and they love chewing bracken, which has boosted the population of rare butterflies.
Where to See Dartmoor Ponies
It's not too hard to spot ponies on the moors, though it may be a little trickier to spot the pure Dartmoors. However, there are strict guidelines.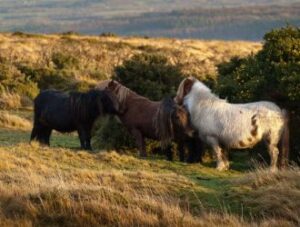 Dartmoor ponies all belong to somebody, despite roaming freely, but most of them have never been handled. Therefore you should never approach a wild pony, as it might be unpredictable and could bite or kick. It's also illegal to feed the ponies, as it encourages bad habits and can be dangerous for them.
If you and your little ones want to visit some friendlier ponies, here are a few options:
Welcome Family's first-class accommodation in South Devon is the ideal base for your Dartmoor pony adventures. Simply book online on call us on 03451 656265.