Fantastic South Devon Family Festivals to Enjoy in 2018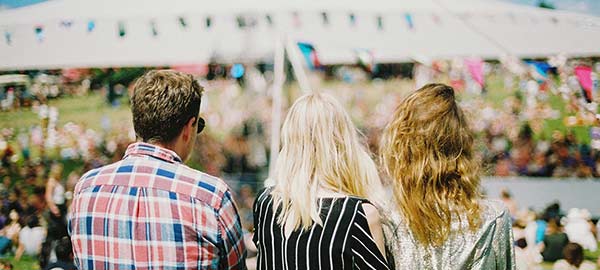 6th June
Art, culture, music, outdoor activities and more are thriving here in sunny South Devon. To see what we mean, just take a look at our guide to the region's fun-packed festivals.
Festivals give families unique opportunities to create wonderful holiday memories – and there are certainly plenty of them planned for South Devon in 2018. What's more, all of the festivals mentioned below are easily reached from our Dawlish Warren holiday park.
South Devon Festivals for Holidaymakers
You'll be amazed by the diverse range of festivals in South Devon:-
The Contemporary Craft Festival (8-10 June): This award-winning event is held in Bovey Tracey, which has a long history of craft making. As well as showcasing the skills of talented craftspeople, the festival invites visitors to try knitting, pottery, sculpture and more.
The Kingskerswell Summer Moon Festival  21 – 23 June 2018, is held on the Parish Meadow at Kingskerswell.   The "Night at the Proms" concert will take place on the evening of Thursday 21 June 2018, followed by the main Beer and Live Music festival on Friday 22 June and Saturday 23 June 2018.  There's plenty of exciting music, delicious locally produced food and plenty of space to be with friends and family.
Exeter Respect  returns to the city on Saturday 30th June and Sunday 1st July 2018 in Belmont Park.  This diversity festival has grown dramatically along with the diversity of the city's population, and provides a great, safe, space in which more communities than ever before can come and celebrate and share their cultures.
Summer Nights is a Festival of Street Food on 30 June, 21 July and 25 August in Newton Abbot that features locally produced dishes and world cuisine.  There is live music and entertainment on all three nights so come along and try the great selection of hot and cold food on sale and stay around to be entertained.
Glas-Denbury Music & Arts Festival (6-7 July): You've heard of Glastonbury, but what about Glas-Denbury? This uplifting, family-friendly festival celebrates the South West's marvellous musicians, artists, writers and entertainers. It also encourages festival-goers to get creative and try new things, from laughter yoga to making artworks from recycled materials.
South Devon 1940s Festival (7-8 July): Take a trip back in time at Buckfastleigh Station for this atmospheric festival. Soak up the South Devon scenery during a steam train journey, get to grips with wartime military life, enjoy the fairground and relax with Forties music.
SnookyFest  is a Family Friendly Inclusive Festival being held at Warren Farm, Dawlish on 14th July 2018.  As well as wonderful live music on three stages, there will be various food, drink and refreshment stalls and tents for you to enjoy. They will also be an array of Bouncy Castles, a Picnic Area and Curios, a Henna Tattooist, Hair Braiding and many other fun things to try!
The Marldon Apple Pie Fair (28 July)  has been going since 1888 in memory of local farmer, George Hill, who would use his windfall apples to bake an enormous apple pie for the village. Nowadays, locals and visitors alike join in the celebrations. Events throughout the afternoon include local arts, crafts and food stands, falconry displays, games and even a novelty dog show!
Exmouth Kite Festival (4-5 August): You'll marvel at the skills of experienced kite flyers as colourful kites dance across the sky. Kids can get involved by attending kite-making sessions. What's more, money raised will benefit local charities.
Children's Week (14-18 August): Since 1946, families have flocked to Paignton to laugh, play and be entertained during the UK's longest-running kids' festival. You can expect fancy dress, magic shows and bouncy castles !
Fishstock Brixham (8 September)  A real hit for the whole family, the English Riviera's renowned urban music and seafood festival takes place at the new Fish Quay on Brixham's picturesque fishing harbour.
Budleigh Salterton Literary Festival (19-23 September): If you like reading and writing, you'll love this coastal town's celebration of storytelling. As the festival attracts high-profile authors (Mark Haddon has previously taken part), it's bound to inspire you. Why not put pen to paper about your South Devon holiday?
Apple Day at Cockington On Sunday 14th October, Cockington will be awash with all things apple as part of Apple Day.  All the family can take part in a range of activities. There will be an abundance of live music with local bands as well as a range of stalls from local businesses and food stalls.   In the craft studios the resident craft makers will be showcasing their creative skills with the glassblowers, blacksmith and chocolatiers not to be missed.
Our first-class South Devon holiday accommodation is the ideal base for trips to the region's festivals. Simply book online or call us on 03451 656265 to discuss your plans.
Please check websites and details before travelling.