Fantastic South Devon Family Festivals to Enjoy in 2019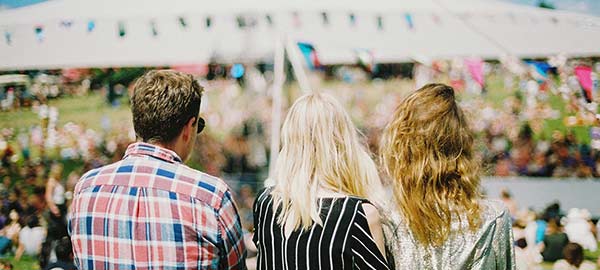 6th Jun 2018
Art, culture, music, outdoor activities and more are thriving here in sunny South Devon. To see what we mean, just take a look at our guide to the region's fun-packed festivals.
Festivals give families unique opportunities to create wonderful holiday memories – and there are certainly plenty of them planned for South Devon in 2019. What's more, all of the festivals mentioned below are easily reached from our Dawlish Warren holiday park.
South Devon Festivals for Holidaymakers
You'll be amazed by the diverse range of festivals in South Devon:-
Grinagog Festival (12-13 April)
Start your festival season in style at the English Riviera's very own family friendly festival by the sea. Grinagog is a hugely popular, two day music and arts feast set within the idyllic 800 year old grounds of Torre Abbey Museum in Torquay.  Enjoy a mud-free experience as you wander around the small but majestic festival grounds with its super safe, intimate atmosphere.
Brixfest  (25-29 May)
Brixfest is a Brixham festival for all the family to enjoy with lots of different things going on throughout the five days. Brixfest will bring hundreds of artists, charities, chefs and local people together with thousands of visitors. Throughout the festival there are lots of pubs and restaurants open for you to grab a bite to eat and a beverage whilst helping out the local community.
The Contemporary Craft Festival (7-9 June)
This award winning festival is held in Bovey Tracey, which has a long history of craft making.  As well as showcasing the skills of the talented craftspeople, the festival invites visitors to try knitting, pottery, sculpture and more.
Exeter Respect (8-9 June)
Exeter Respect is the city's annual celebration of diversity where we use the performing and creative arts to engage the wider community in saying no to racism and all forms of prejudice.  This alcohol free festival provides a great safe space in which more communities than ever before celebrated and shared their cultures.
Glas-Denbury (5-6 July)
Glas-Denbury is all about the people and all about the South West. Featuring multiple stages of arts across a beautiful site in the midst of the rolling Devon hills, the festival is a colourful, happy, safe event suitable for all ages. The whole event is self-funded and uses 100% South West suppliers, our bars stock a fine selection of local real ales, ciders and lagers and the handpicked food stalls serve up a delicious array of amazing, local, quality foods including specialist foods – we truly champion our surroundings and the people of the South West in bucketfuls.
Our first-class South Devon holiday accommodation is the ideal base for trips to the region's festivals. Simply book online or call us on 03451 656265 to discuss your plans.
Please check websites and details before travelling.
Updated 29/10/18