Travelling on the Riviera Line may be the single best way to take an overview of the gorgeous surroundings in this part of the country – the famed English Riviera.
The Riviera Line Pt III – The End of the Line?
The final two stops on the Riviera line – discover all the delights that Torquay and Paignton have to offer. Enjoy the ride!  
Well, it's been a wild ride, that's for certain. I'm not sure anything can follow St Leonard's Cheese and Onion Fayre in Newton Abbot, but I'm sure the residents of our final two stops on the Riviera line would beg to differ. Let's have a look at some of the things they have to offer shall we?
Torquay
Obviously, the word "Riviera" has come from the famous region of France incorporating the Cote d'Azur. Well, let's put it this way, if this is England's Riviera, then Torquay is undoubtedly its St. Tropez.
Like most of the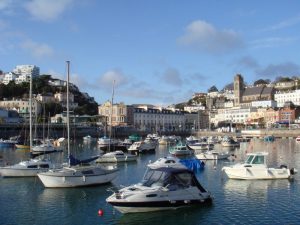 larger towns in Devon, Torquay and its environs have been delighting human beings with its delicate micro-climate, its breathtaking sea cliffs and its abundant vegetation for thousands of generations. In fact, Torquay is home to possibly Britain's most important Stone-Age site – Kents Cavern.
It is here that the earliest known human jawbone was found in Western Europe, dating our presence here to at least 33,000 years BC! In fact, evidence suggests that our forefathers were sheltering in Kents Cavern for at least 40,000 years. They must have really liked it in there!
You can visit Kents Cavern today and also the Torquay Museum – Devon's oldest – and see for yourself the wonders of ancient antiquity. It's highly recommended and has entertained such dignitaries over the years as The Emperor Haile Selassie and our own beloved Beatrix Potter and Agatha Christie.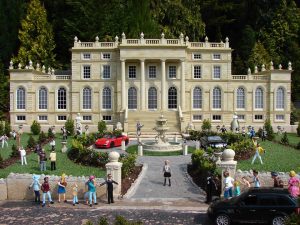 No visit to Torquay is complete without looking in on Babbacombe Model Village. Sprawling, in miniature across a phenomenal four-acre site, this little place is truly the home of marvels. Nothing beats the feeling of strolling around a tiny little town as if you were Jack's giant or Godzilla. Of course, the village's proprietors wouldn't appreciate you wreaking Godzilla-style havoc on their tiny town to please keep yourself under control!
Paignton
Paignton has the beautiful waterfront you may have come to expect from South Devon. It has a lovely old pier too. You can get boat trips from here, of course, and watersports here are a firm favourite with all ages.
Paignton Zoo is perhaps the biggest draw for anyone visiting along the Riviera Line from Dawlish Warren. A quick glance at their online map will show you how extensive are the animal collections here.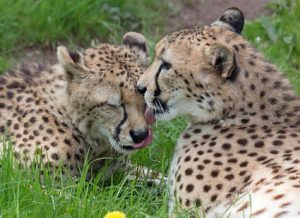 Lastly, there is Paignton Geopark. This is an extensive outdoor play area with picnic table and seating areas and enough fun to keep even the most excitable little one happy for hours.
Of course, it is worth the trip for Paignton's famous bakeries. The town's inhabitants are nicknamed 'pudden eaters' because of their deep love of pudding. Commemorative puddings are baked whenever there is a special anniversary to be marked.
Actually, there have only been two such bakings in living memory – but for some reason the nickname has stuck. If you want something other than pudding the town has all the usual bakeries you might expect. 🙂
Experience all the delights on The Riviera Line
So that concludes our journey on the Riviera line. We hope you've enjoyed the ride as much as we have. If you want to experience all the delights to be found on The Riviera Line why not book a break at the 4* Welcome Family Holiday Park? The park is ideally located in the sunny Dawlish Warren seaside resort and is the perfect location for experiencing the English Riviera on The Riviera Line. There is a great choice of self-catering holiday accommodation to suit all sizes of family and budget and superb family holiday entertainment that makes Welcome Family one of the most popular holiday parks in the UK.
For bookings and information browse the website or call us on 03451 65 62 65.