14 Free Events and activities in South Devon September 2017
Aug 30,2017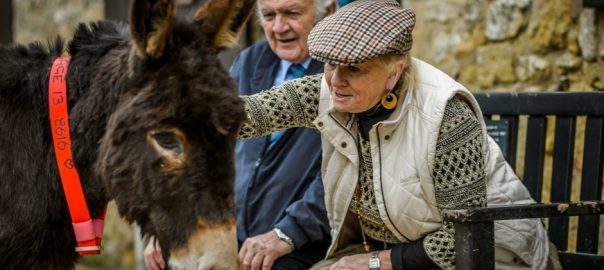 Are you thinking of taking a September break in Devon?
If you are, the good news is that a holiday in Devon doesn't have to break the bank.  With a  beautiful coastline,  breathtaking countryside scenery and picture postcard villages there's always somewhere new to visit, even if you've stayed here countless times before.
To give you even more inspiration here's a list of some of the free events and activities for you and you family to enjoy while on your September break in Devon.  From nature trails, to car shows, to woodland crafts, we've something for everyone…
Free Days Out Throughout September
1.Visit Donkeys at The Donkey Sanctuary, Sidmouth
The donkeys at the Donkey Sanctuary love to meet new people.   Admission and parking is free (donations welcome) and they are open 365 days a year. Dogs are welcome as long as they are kept on a lead, and many of the farm trails are bike-friendly.
2.Go Gruffalo Spotting at Haldon Forest
Kids love the Gruffulo! Here the whole family can enjoy following clues and collecting evidence whilst enjoying the wonderful scenery on this forest trail of about 1.5 miles.
3.Explore Occombe Farm and walk the nature trail!
There are vegetable gardens and a bunker to explore, as well as animals including alpaca, ducks, lambs and chickens to say hello to on this 2km nature trail.
4.Visit a Craft Market at Widecombe-in-the-Moor
Every Thursday until 26th October , Widecombe-in-the-Moor Craft Market  takes place in the National Trust's 16th Century Church House with wooden beams and even stocks for those who misbehave!   The Market features an array of hand-made products all created by Devon crafters. There is also a produce market on the fourth Saturday of the month in the same venue.
5.Discover Exeter's Ancient Past at RAMM
Exeter's world-class museum has stunning displays and galleries, fabulous exhibitions and modern amenities. The displays reveal Devon and Exeter's rich history and global connections and also showcases exotic animals, birds and insects.
Lots of Events In September
6.Celebrate the opening of Dawlish Countryside Park
3rd September
We're very excited that this new park is opening so close to us!  The park is set to open on Sunday 3 September, 11am – 3pm, with an official ribbon cutting ceremony. This will be followed by an event for the community called "A Family Day Where Dogs Can Play" – a fun-packed day for all ages to enjoy, whether or not you have a dog to bring with you.  Activities include:
Dog agility show
Canine first aid demonstration
Mask making
Exploring the park through a series of walking routes – 2.3km to 5km walks
Panoramic views from Ridge Path
Visit the lookout
Mini-beast safari
Learn about the ancient history of the park
Display of archaeological finds
7.Support Local Farmers at Dawlish Farmers Market
9th September 2017
Shopping at a farmers' market is a great way to meet local farmers and food producers, and get fresh, flavourful produce.  Dawlish Farmers Market takes place on The Lawn, Dawlish and also takes place on the 14th October.  There are lots of farmers markets in Devon, other Farmers Markets can be found here: https://ilovesouthdevon.com/food-drink-eating-out/farmers-markets/
8.Celebrate 25 Year of Devon Air Ambulance
9th September  2017
Join Devon Air Ambulance at Darts Farm, Topsham for a fun-filled day out for all the family! As part of the celebrations, their helicopter will be stationed there for the day. There will also be an emergency services demonstration as well as live music, pop-up shops, refreshments and activities for the kids.
9.See a Band Concert in Newton Abbot 
10th September 2017
Spectrum Music Concert Wind Band is playing at The Band Stand, Courtney Park in Newton Abbot.  As the band's name suggests, expect music from a wide spectrum of styles – from west end stage to silver screen, from pop ballards to jazz standards and with a few big band classics thrown in for good measure. There is something to get everyone's toes tapping.
10.Watch Milling Demonstations at Cricklepit Mill
10th September 2017
Cricklepit Mill are having a heritage open day where volunteer millers will run milling demonstrations.  Watch history come alive as the ancient water wheel is started and grain is turned into flour!  If you miss this event you can still visit the mill free of charge Monday to Fridays from 9 – 5. Click here for a self guided tour leaflet.
16th & 17th September 2017
The Barbican and Sutton Harbour in Plymouth will come alive on Saturday 16 to Sunday 17 September, with a celebration of locally sourced and sustainably caught, high quality seafood.  Now in its sixth year, the Plymouth Seafood Festival will be offering a weekend full of delicious dishes for all the family to enjoy as well as hands-on activities, including children's cookery fun, where they can touch and taste local produce.
12.Experience the Taste of Teign
23rd September – 1st October 2017
Hailed as Devon's most extensive food festival, The Taste of Teign has a vast programme of exciting events from 23 September to 1 October 2017.  Each event is designed to allow you to savour truly local foods, find out more about them, the environment and the people who produce them.  You can download an event guide here (PDF Reader required)
13.See Classic Cars while you shop
30th September 2017
Take a trip down memory lane and see some Classic Cars whilst enjoying some of the best shopping in the region.  The pedestrianised centre of Newton Abbot will be filled with vehicles from 9am to 4pm and St Leonards Tower will be open for guided tours on the day.
14.Woodland Crafts at Eastcliff Park
30th September 2017
Stop by and try your hand at some woodland crafts or some soup warmed on the fire. You can even make yourself a walking stick to take home!  This free event  is on from 11am until 3pm, click here to download a leaflet (PDF reader required)
And finally, we know that this is in October,
but we thought it was worth sneaking in anyway!
Watch Home-made Rafts Navigate the River Dart
1st October 2017
The Totnes Raft Race, also known as "The River Dart Struggle" is acknowledged as one of the great river challenges!  It takes place along the river Dart starting at Dart Bridge, Buckfastleigh and end at Totnes.  The challenging course follows through a mixture of white water, fast flowing weirs and calm stretches and there are plenty of places along the river for spectators to watch the exciting struggle to the finish.
Welcome Family holiday park in Dawlish Warren offers first class accommodation and is in an ideal location for visiting all the delights of South Devon and Exeter.  Simply book online or call 03451 656265.
Please check with the event provider before making your journey as events may change. Welcome Family are not responsible for external links.