Devon Cycling Holidays
Cycling fun in sunny Devon
Welcome Family is located near many of the favoured bike routes in Devon, making it the ideal choice for a cycling holiday in Devon.
Devon, renowned for its peace and unspoilt beauty, offers a wide selection of bike routes, both on and off-road, for perfect cycling holidays. These vary from leisurely traffic-free rural rambles to rewarding long distance rides and challenging mountain biking. There are a number of suitable bike routes available to print off from the Devon County Council website.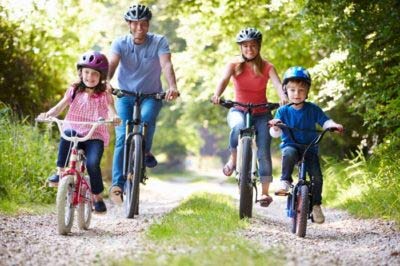 Devon Cycle Routes
Here are a few of the cycle routes in beautiful Devon:
The Exe Estuary Trail
Dawlish Warren is an excellent starting point for exploring the Devon countryside on a bicycle.   And you don't need to worry if you haven't got your bike with you, as you can now hire one at Exe Trail Cycle Hire, at the Velo shack, Dawlish Warren!
The recently improved Exe Estuary Trail foot and cycle path now has a dedicated path linking Dawlish Warren to Cockwood and is connected to Powderham church to the north and to Dawlish to the south of Dawlish Warren.
If you fancy cycling any further you can cycle along this flat, mostly traffic free route into the heart of Exeter. This cycle route has some beautiful views over the Exe Estuary and is a fantastic day out.
There are many pubs and restaurants along the way to stop for some refreshments and a visit to the historic Powderham Castle should not be missed.
You could even cross on the Starcross-Exmouth ferry service to the other side of the Exe estuary where you can pick up the National Route 2 of the National Cycle Network into Exmouth. Bicycles can be carried on the ferry.
Have a look at this link for a map of the Exe Estuary cycle trail
Haldon Forest cycle trails
There is a choice of several cycle routes through Haldon Forest which is situated just south of Exeter along the A380.
The forest is home to the famous Bird of Prey Viewpoint from where you can sometimes catch a glimpse of a bird of prey as it soars over the forest below.
Have a look at this link for the Haldon Forest cycle trails.
Cycling in Dartmoor National Park 
At Welcome Family, we really recommend a visit to the Dartmoor National Park for cycling holidays. Over 368 square miles of breathtaking landscape, including rushing rivers, rolling valleys and forests and make for a serene and scenic background. After you've built up an appetite, be sure to head back to Dawlish Warren for a variety of eateries and relaxing entertainment.
For you speed demons, please note that cyclists must be respectful of other holiday makers and observe the 10 mph speed limit and the one-way system on the park.